This posting is a bit of odds and ends — some cultural tidbits of 1911.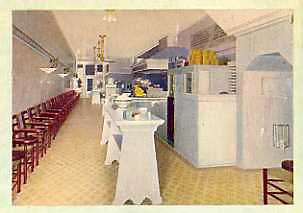 On September 7, 1911, Jessie wrote in her journal, "Got some lunch at the Baltimore Dairy. It was grand." The Baltimore Dairy Lunch was one of the first chain restaurants in the U.S.  Founder James A. Whitcomb started the restaurants in the late 1880s in Baltimore and Washington D.C., and  within 30 years most big cities had a Baltimore Dairy Lunch.  They were quick lunch counters where patrons made their orders and carried their lunch to their seats, one-armed wooden chairs (patented by Whitcomb) that discouraged long, lingering lunches.
Jessie's older brother Bud (Frank) left Memphis for the University of Tennessee in Knoxville on Monday, September 11, 1911. By the next weekend he was back home with a case of typhoid fever. As the 20th century progressed, cases of typhoid fever became less frequent, thanks to the introduction of vaccines and improvements in public sanitation and hygiene. But in 1911 typhoid outbreaks were still occurring. This was, after all, the decade of Typhoid Mary, a healthy carrier of the pathogen living in New York. She worked as a cook and is thought to have infected 51 people, 3 of whom died. Back in Memphis at the end of September 1911, Bud seems to be recovering.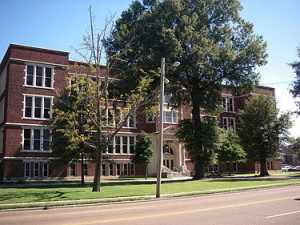 On September 18, 1911, school starts again in Memphis. Jessie went to Memphis High School. (You can see a picture of Memphis High in my posting of April 20, 2015, Debating Societies, Tally Ho Rides & the Birdmen Return.) This year a new school, the successor to Memphis High, opened and was called Central High School. On September 19, 1911, Jessie notes that "The desks haven't come yet so we have to sit on the floor in the classrooms. Just like a circus. We cut up to beat the band."
On September 23, 1911, Jessie, Winnie, Alma and Alta Mai go see the musical or comic opera Madame Sherry at the Lyceum. Jessie can't get the song Every Little Movement out of her head!
The Lathams bought a new house on Overton Park Avenue and will soon move there. On September 24, 1911 Jessie writes, "Auntie, Swayne & I went out to see our new home on Overton Park Ave. It is beautiful." The farmhouse where they had been living was Granny Swayne's house, formerly her father Col. E.H. Porter's country house. Granny died in early January, so perhaps the Lathams needed or wanted to move so that Granny's estate could be settled. It is likely that they wanted a smaller and newer home closer to downtown Memphis. Of course I don't know this since Jessie never wrote about that in her diary. Incidentally, the address written at the top of the photo below is incorrect. Jessie was a very old woman when she went back through many of her old pictures, writing on some of them, and she confused the number with an address from later in her life.  The address of the Latham's soon to be new home was 1759 Overton Park Avenue.