Excitement this afternoon. Mary Keeler and Estes Armstrong, Elizabeth Edwards and Guion [Armstrong] were married and went to N.Y.  From there the boys, now aviators 1st Lieut., will go to France.
It was a double wedding that Jessie attended on September 25, 1917, probably rushed because of the war and the imminent departure of the brothers.  As I was searching online for the maiden name of Mary who was marrying Estes, I came across a website (findagrave.com) about their future daughter's death at 96 (in 2016). The short biography included in her listing told me more about the two brothers. Guion did not make it back from the War. He died in action and his niece, whom he never met, was named for him.
In this biography I also read for the first time about the Memphis Gang. This was a group of 24 men, including Frank (Bud) Latham, who all took their early aviation training together in Memphis, and who were some of the very first American aviators trained to fight in the war. When the U.S. entered World War I there were about 35 pilots in the country and 51 student pilots. During the war more than 40,000 men applied for the U.S. Army Air Service. 22,000+ were accepted, and of those only about 15,000 advanced beyond ground training school to primary flying training. After Frank  did that, he went for advanced training in aerial combat at Issoudun, France, at that time the largest air base in the world. These young men were heroes and their bravery was without question.
Here is a link to Invader, the magazine for the 13th Bomb Squadron, which contains an article about a member of the Memphis Gang. The article is titled Hank, starts on page 6, and contains a lot of interesting information about the aviators.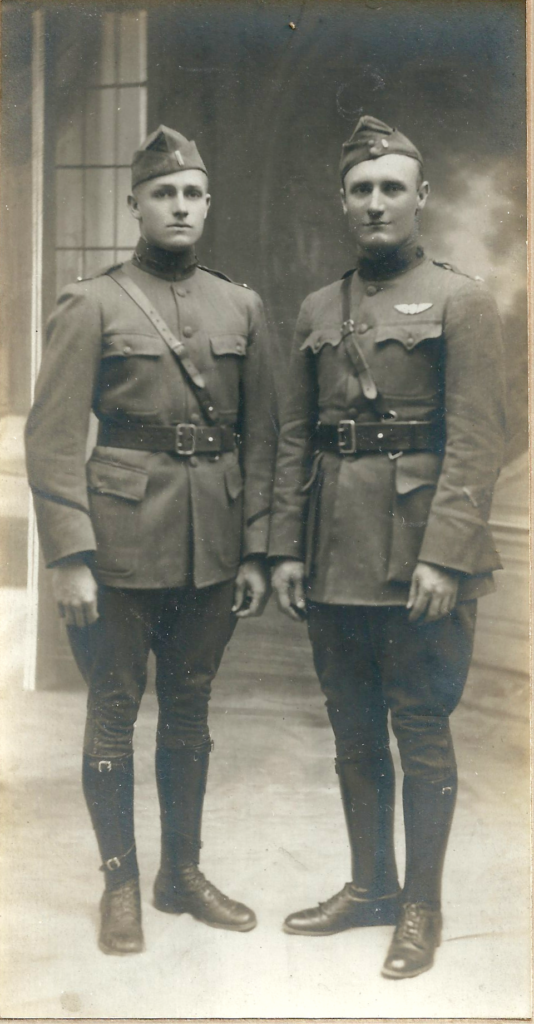 Though I posted this photo  recently, I am doing it again to point out Frank's aviator wings on his chest. His brother Swayne served in the American expeditionary forces in France.