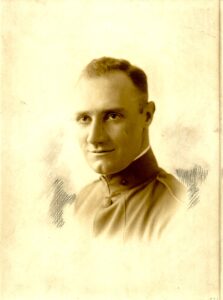 On Saturday, September 7, 1918, Jessie wrote in her diary:  My heart is breaking. I can scarcely write, but it was to-day that the news of Bud's death in France reached us. He died a hero! He was flying way up in the sky he loved when the wings of his plane fell off. I just know at the same time he took on wings of his own and kept going higher and higher to rest and peace… Frank Latham was killed on August 21, 1918, at Issoudun, France while on his final combat training flight before heading to the Front.
Jessie and her family were notified of Frank's (Bud's) death officially and also with a personal letter from Lieut. Bob Haverty, a friend to Frank and to Jessie. On Sunday, September 9th, Jessie's mother received a wire from Swayne:  Dearest, learned about brother yesterday. Am at Issoudun now. Have stopped flying. Be brave and strong sweetheart. I have done everything possible. God bless you, Swayne.
Obviously with both her brothers 'over there' Jessie had been worried. Several times in July and August and on into early September Jessie mentioned feeling blue and having bad dreams she wished she could forget. On September 9, 1918, two days after learning about Bud, Jessie wrote:  Bud's last letter was written the 19th, two days before the accident. Oh! it was so sweet. He has always been to me the most wonderful person in the world. And oh! so close that I've known of it for weeks. In a dream I saw it all when it happened. For weeks I've kept it to myself and tried to forget it but couldn't. Since the morning of the 21st of August I've held my breath almost, just waiting for the message.
Frank was popular in Memphis as was his whole family. Flowers, messages of condolence, and visitors arrived every day at their home. There were even poems written in honor of Bud published in the local newspaper. Here is one called AWAY.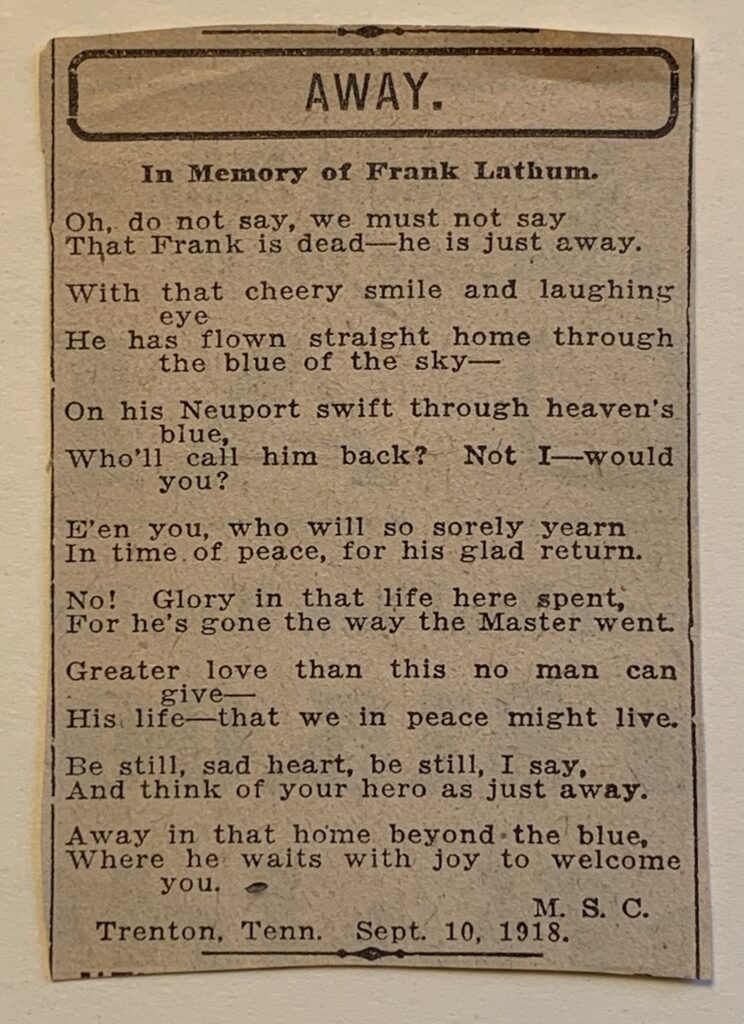 The poet says Frank's aircraft was a Neuport. I believe that was a misspelling and the aircraft was a Nieuport 11, a single seater French airplane used during World War 1.