"I love you so much, you dear little Dutch." My grandmother Jessie used to say this to me and my siblings, and my sister Karen carries on the tradition. While transcribing Jessie's diary entries, I came upon this exact quote in the entry for March 16, 1915. It turns out that one of Jessie's serious boyfriends, Doug Brooks, said this to her and it is a quote from a 1915 show called The Clock Shop – A Musical Fantasy. I don't recall Jessie mentioning this show, but I did make note of some of the more interesting vaudeville shows or movies she saw and wrote about. For example, on March 9 she saw Norma Talmadge in the silent film A Daughter's Strange Inheritance. The next day (March 10, 1915) Jessie went to a vaudeville show at the Orpheum. She commented that "The sketch Red Kate was certainly strange. It went backwards." Thursday, March 3, "…went to the picture show, awfully spooky pictures such as Snatched from a Burning Death."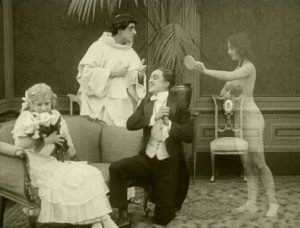 One week in April 1915 Jessie saw three entertainment legends. "Had a date with Coach to-night. We went to see the Hypocrites. It is supposed to be the most wonderful picture ever shown. It was certainly marvelous. I was rather shocked myself at the nakedness of truth. We went from the sublime to the ridiculous and went to another picture show to see Charles Chaplin in The Tramp. He was a scream from beginning to end." (Jessie, April 19, 1915)  The film Hypocrites was written and directed by Lois Weber (1879-1939). It was quite controversial because of the full nudity of The Naked Truth, as portrayed by a naked Margaret Edwards. Weber's personal reputation along with her innovative use of editing and double exposure effects convinced those in charge to go ahead and distribute the film.  A week later (April 26) Jessie and Wiley saw Fanny Brice in a vaudeville show at the Orpheum.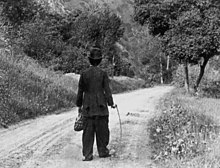 On May 7, 1915, the British ocean liner Lucitania was sunk by a German submarine killing 1,128 people. This event was important in turning popular sentiment in the U.S and elsewhere against Germany during World War I.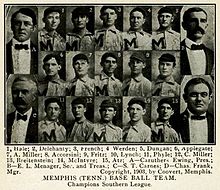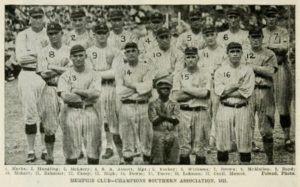 On June 26, 1915, the Memphis Chicks baseball team was drawing in the crowds, including Jessie and her friends, and was for a time in first place. The Southern Association of Minor League Baseball operated in the U.S. from 1901 to 1961. An earlier team, the Memphis Egyptians, had won the Southern Association Pennant in 1903 and 1904, but a Memphis team did not win again until the Memphis Chicks won the Pennant in 1921.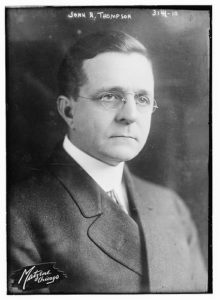 September 15, 1915, Jessie wrote:  "Wiley took Clint and me to town, Thompson's, and got us sandwiches and dough-nuts. They surely tasted good."  According to Historic-Memphis.com, J. R. Thompson opened his first restaurant in Chicago in 1891, was very successful and expanded throughout the U. S.  Within 30 years Thompson's company had become one of the largest self-service lunchroom chains.  In 1915, he opened his first restaurant in Memphis at 11 South Main.  Thompson stressed cleanliness, nutrition, quality, and low prices. His motto was: "Eat Thompson's Way for a Better Day."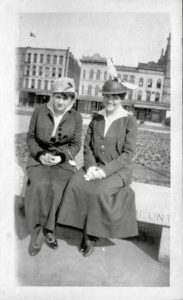 Reading a record of day to day life in 1915 Memphis, over two decades before antibiotics were available to the public, I am again reminded how much more fragile life was just 100 years ago.  On the 24th of October of that year Wiley was to have had a date with Jessie, but he "…phoned he couldn't come. His hand is so much worse. They lanced it to-day. Were so afraid it was blood poison. How sorry I am that he is laid up." Wiley's hand improved and whatever infection he had, his own immune system beat it. Shortly after Wiley's episode, what Jessie called the Grippe, or the flu, was beginning to spread among Jessie's friends. On December 14th she mentioned that Clara had "La Grippe." On December 15 Doug became ill. Then Wiley came down with the flu on December 20, followed by Sadie and Virginia Yerger on December 22nd. A few years later the Spanish Flu pandedemic of 1918 would kill 50 million people, or 3 to 4% of the world's population at the time. The outbreaks of influenza in France, the UK, Norway, Germany and the USA in the years 1915 to 1917 may have been early manifestations of the so-called Spanish Flu (Early herald wave outbreaks of influenza in 1916 prior to the Pandemic of 1918 ). That incarnation of the influenza virus was especially deadly for the young and otherwise healthy.
On January 3, 1916, Jessie went to a vaudeville performance at the Orpheum and saw the Marx Brothers. As she says, "The show was dandy. The Four Marx brothers in Home Again were remarkably clever. One could certainly play a harp."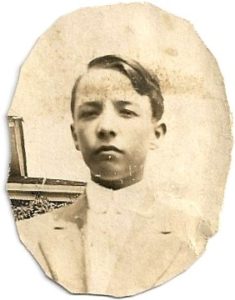 And finally, lovers. My last post Boyfriends, 1915 left out a very important person – Richard Armistead. As Jessie writes in her diary on January 2, 1916, Richard was her "first real sweetheart." They started dating in 1909, and in all that time he went with no other girls. Here is the last part of her diary entry for January 2, 1916: "Had a late date with Richard. The dear boy is more in love than ever before. Says he will never change. Every few minutes he says, 'You know I'm a fool about you.' He doesn't talk very much. When I'm with him I'm perfectly happy, forget most every-thing else in the world. He plays the part of a lover so wonderfully. He said, 'God pity me if it's possible for me to love you any-more." I left Richard out of the Boyfriends post because he disappeared from Jessie's life for months at a time. Then they would go out and Jessie would seem so in love, then they would have a blowup and Jessie would say she never wanted to see him again. There was something that prevented Jessie and Richard from having a consistent romantic relationship, but she never says in her diary what that is. He swore to Jessie that no other woman would ever interest him, and it appears from looking for his death records, that Richard died in 1937 having never married. That's sad. But I also know that my grandmother Jessie kept Richard's name card and his picture in a beautiful gold jewelry box that I inherited, and that he gave Jessie for Christmas in 1912.